From the land of the Bluenose.....unlike today which saw blackened skies and periods of drizzle yesterday was made for a picnic and the beach which is exactly what Marie and I did.
With the picnic basket loaded full of treats and Otto gassed up to capacity we headed to a provincial park that without a doubt is the best place to swish in the province with it's fine sandy bottom that gradually declines giving one a wide area to detect.
Along the way I had to rein in Otto and stop at the golf egg farm
which is a par 3 at this location but in the time allotted I only found two!
And as Tony Saprano would say, "We should whack em," which I will do come our company golf tournament next month in the best ball match. (Got three ringers with me, Sister Michelle, Brother Rick and Tony my sister's bo who is the grounds keeper at Lost Creek Golf Course) Borrowing my mother's clubs and a 32 ounce Louisville Slugger from my ball team. Imagine the best part of my game (golfed about 10 times in my life) will be the beer drinking and in the woods finding golf eggs.
From there it was a 22 km drive down a back road to the park.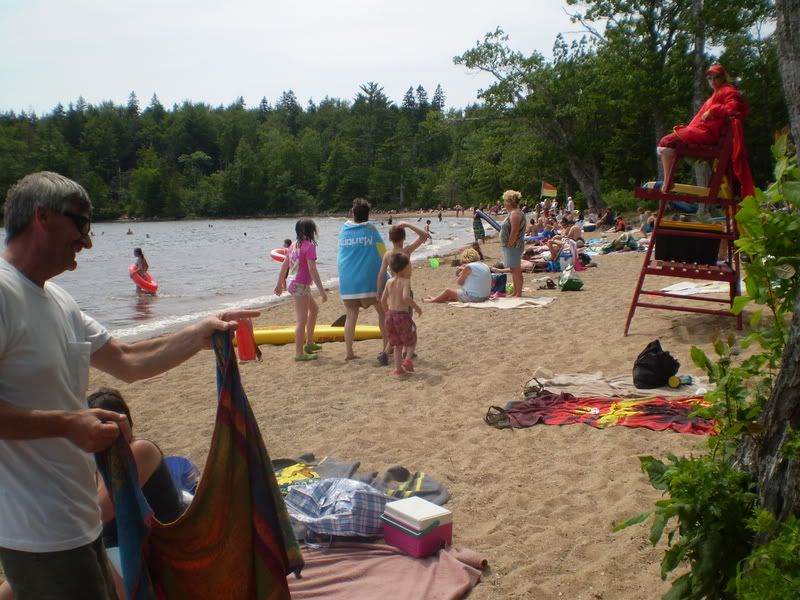 Marie this time didn't take up her usual spot on a towel with her walkman but joined me on my aquatic quest in the capacity of Sieve Queen. Her keen eyes ( give me a break she found me...lol) detected another swisher at the far end of the beach out about waist high. One glance and I knew from the sleek, black wet suit and Sahara Desert hat who it was..........Andy Eh.
We eventually met in the middle of the lake and chewed the fat for a tad. He then showed me the honker of a gold ring he had pulled out from the drink; a real beauty to say the least.
Marie and I continued up and down the lake at various depths netting a few coins and a silver toe ring along with an earing that could have passed for a wind chime.
Sure was a challenging swish when I went chin deep and the waves started throwing me about making target recovery and arduous adventure. Just wish all the water I swallowed from the waves was beer for I would have surely looked like a landed cod flopping around the deck of an ocean trawler.
Had mentioned to Andy that I knew where a ring was lost so after our picnic we motored off to another beach in search of the men's ring that supposedly had 3 diamonds in it. Searched the sand for over an hour finding only 2 coins.
Marie of course braved the cold water then did the towel and walkman thing.
She had that smile on the whole day and was enjoying herself even though it had been a long day.
Didn't want my gold streak to end so I sucked up big time and bribed her with the promise that I would make supper and do the dishes and in her good natured way gave the okay! Yessssss! Found this heavy digger under the sand and left it near the parking lot for some kid to enjoy.
Last chance hotel was a lake on the way home that I had just done a week ago.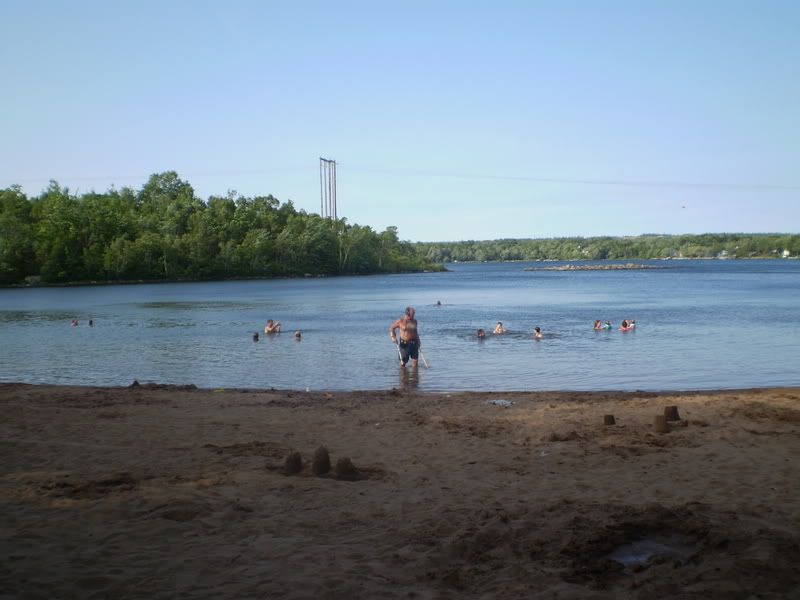 About the fourth target here my number came in.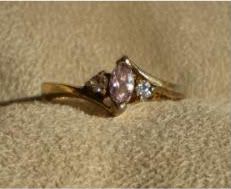 red stone flanked by small diamonds with the one on the left side missing....what the halibut it was gold!
Took the long and winding road home along Waverly and sauvoured the view. Take for the day was the gold ring, silver toe ring, pirate happy face, 3 earings,dozer and 30 coins @ $11.64