From the land of the Bluenose......headed down to Clam Harbour with Capt Jack Sparrow to his humble summer abode.
After unpacking our gear it was off to the beach for a little noodling around and a chance for Capt. Sparrow to better learn his Ace 250.
We dug till dark popping a load of pennies and bottlecaps with nothing of interest found. Once back at the cottage it was a quick meal and and even quicker disappearing of a two liter Carlo Rossi red.
Next morning we had a scoff of bacon and eggs with a cup of mud and fed the wildlife out back.
Mister Man there sure is a lot of birds in the area including jays, blue heron, red wing black birds and about a dozen others that I have no idea what the halibut kind they are. Area around the feeders was heavily patroled by a pair of squirrels who were constantly moving the birds away from the feeders and chattering at this bouy as I approached to replenish the meals.
This shot off the back porch is of a tree which seems to be a hang out for most of our visitors and I was lucky to get a photo of it between landings.
Had a Kodac moment on the way to our next dig location!
Another day of pounding the pennies and Capt. Sparrow took a break before the evening meal.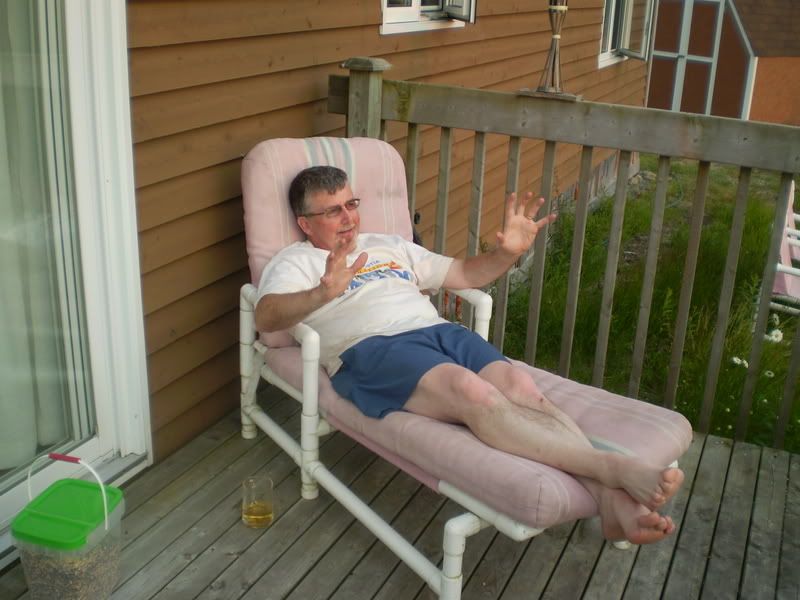 The evening meal was put on the bbq where Capt. Sparrow out did his self preparing the steaks which was aided by an abundance of red wine. "Fed up" we relaxed out back and watched the sun go down.
Last day of our mini trip and we again hit the beach and dug a few more goodies and headed home tired but satisfied as Capt. Sparrow found about 50 coins and seemed to be approaching that "one with your machine" stage. I managed 137 coins and a few odds and sods but nothing of note.
Once home the heat drove Marie and I to a local lake to cool off. Of course the Seahunter Mark 2 was close at hand and about the sixth target turned out to be my best find of my two day dig. 14k with six diamonds which now graces Marie's pointing finger. Photo doesn't do this heavy sucker justice.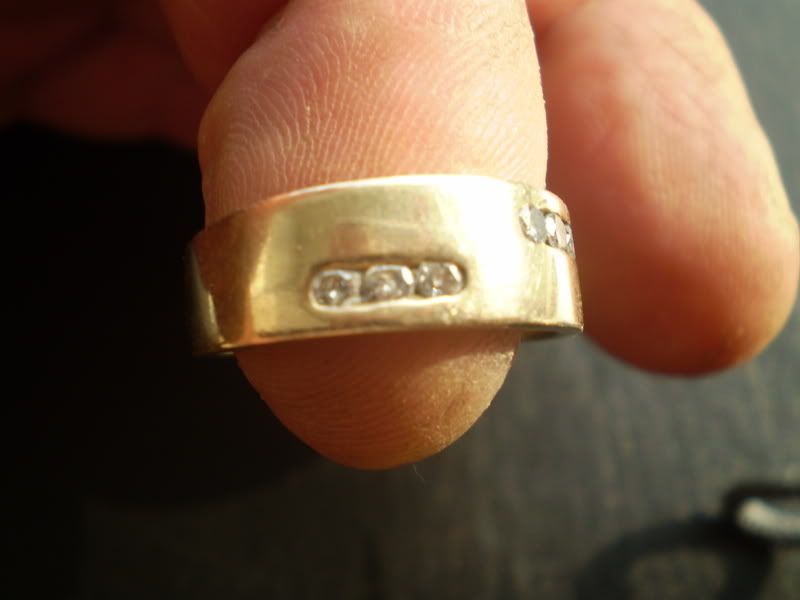 Take for the two days was a key, Quebec key chain, 151 coins $13.91 and the ring.