FOR SALE: GEOMAX ZOOM 90 ROBOTIC STATION with TABLET AND SOFTWARE, LIKE NEW!
Geomax Zoom90R A5 2" Robotic total station with Zenius 800 Android Tablet controller/collector and XPAD Ultimate Survey Robotic software. Unit is about 1-1/2 years old but was only used on one job. Looks and works like new! Comes with all the basics, and tablet and software are already set up to work with robot. Geomax is owned by the same parent company as Leica (Hexagon) and uses their technology and design features. Way more affordable than any offerings from Trimble, Leica, or Topcon/Sokkia. $19,995.00. We are selling this on consignment for one of our customers, but unit has been recently serviced and calibrated for this sale.
• Geomax Zoom 90R 2" robotic total station
• 500 meters reflectorless
• Complete original standard accessories including 360 prism, charger, manual on CD, long range Bluetooth handle, USB cable, etc.
• Xpad software on-board (newer releases do no automatically include this as part of the package)
• Spare battery, for a total of 2
• Zenius 800 android tablet with XPad Ultimate Survey robotic software. 8" screen, WiFi, Bluetooth, camera, GPS, and more.
• SECO anti crush bipod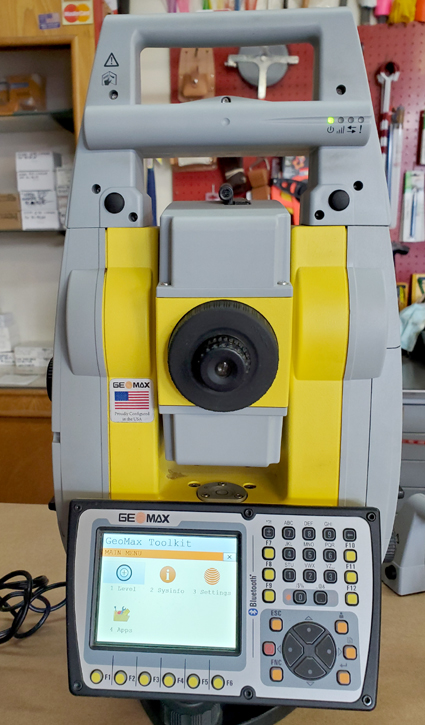 • Geomax graphite prism pole, with pole mount for tablet.