Only 28 days left to donate to Simply Irresist-a-bull 2012 and get free tickets to my stud service giveaway!!!! We have had some minor changes- I have three studs available...
Deacon
Sharkbite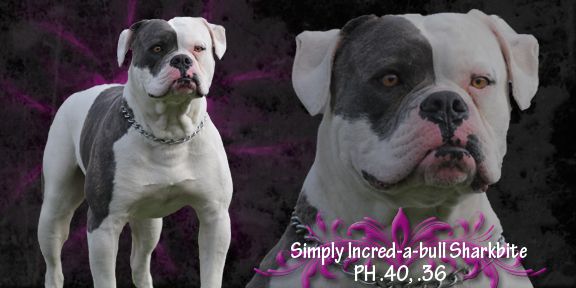 Studebaker
To make a donation, please visit www.SimpyIncredabull.com/show2012.htm (Website will be updated shortly to reflect the current stud line-up. I apologize for any inconvenience this may cause.)
Worldwide participation is available and encouraged! Stud service give-away will include the stud fee- all semen shipping costs will be the responsibility of the winners. Natural tie is also available as an option.
Also- no need to be present to win! Entries will close on July 31, 2012 at midnight Mountain Standard Time. The drawings will be video recorded and placed online for all to view the revealing the winners.
I will be posting very frequently over the next 28 days with updates and special offers. Do not miss this exciting opportunity to win a stud service to an outstanding stud for as little as $25 (or less, depending on the special offer that day.)
Also, any donations over $200 will have the option of having that amount credited towards an actual stud service if you do not win!
Thank you for your participation.. This is a unique and fun way to make sure that this show is the best it can possibly be for all those able to attend. Please stay tuned for other exciting updates!
Contact Dannie if you have any questions!
bulldogginmama@hotmail.com or 208-283-9435