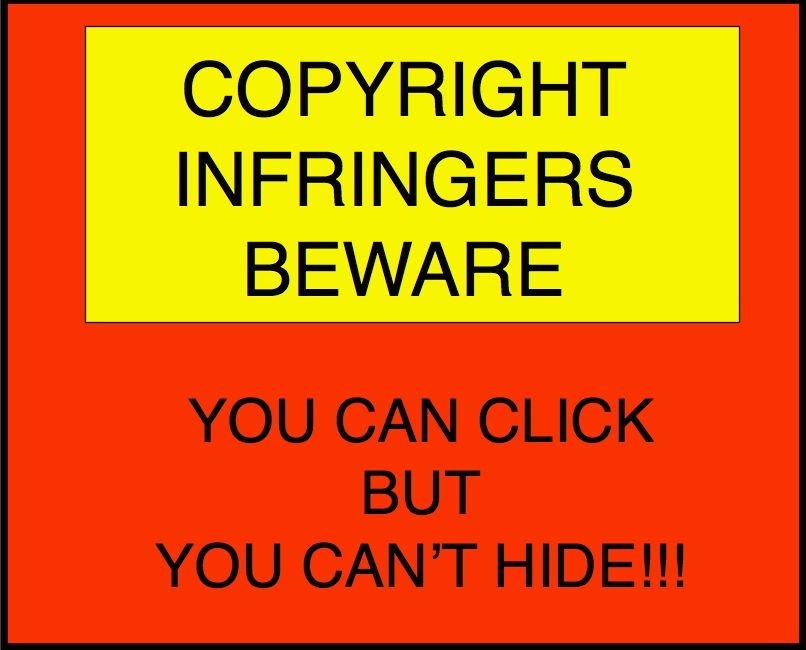 I thought I would share my recent experience with copyright infringement so that others who may find themselves in a similar situation will know what to do.
Darryl Chester of knpvk9.com stole a picture of my Dutch Shepherd, Chanel, from my Facebook account and posted it on his website without my consent. The photograph had been watermarked by me but that did not stop him ~ he, or his web designer, simply cropped the watermark from the photo before posting it on his website!
When I learned of Mr. Chester's wrongful actions, I notified him of my objection on his FB Wall. His response? He blocked me from his account!
I called the phone number on his website multiple times. No human ever answered the phone; I always got an answering machine. I left him detailed messages asking for a return call. He never called me back.
I wrote him an email but he never responded to me.
I assume that Mr. Chester chose to ignore my repeated demands to take down Chanel's photo because he figured there was little I could do to stop him since I am in Michigan and he is in Pennsylvania. His blocking me from his FB account and non-response to my email and phone calls was the equivalent of thumbing his nose at me. I was not a happy camper.
Apparently, though, Mr. Chester was unfamiliar with the Digital Millennium Copyright Act ("DMCA") of 1998. In the US, it is not necessary to register a photograph with the US Copyright Office to gain copyright protection. Every photo I shoot is automatically copyright protected. Posting photos on Facebook or elsewhere on the internet does not make them public property either ~ they remain copyright protected.
Under the DMCA, the victim of copyright infringement can send a DMCA takedown notice to the internet service provider ("ISP") of the infringing website. Upon receipt of a valid notice, the ISP must expeditiously remove or disable access to all infringing material or else be at risk of being found liable for violation of the DMCA.
You can use www.whoishostingthis.com to find out who the ISP Host is of the infringing website. In my case, I discovered that Mr. Chester's ISP Host is Google. I prepared a DMCA Take Down Notice Letter for Google but when I went to send it via email to Google, I found out that Google actually has an online submission form that it asks copyright victims to use instead. The form essentially includes all the information and statements that the DMCA requires in order to make a valid demand for a take down. I completed the Google form online and hit "submit". And voila! In less than 24 hours, the photo was gone from the knpvk9.com website. Take THAT Mr. Chester!!!



Now, should you find yourself in a similar situation, and need to prepare and submit a DMCA takedown notice letter, I am going to share here what you need to say. There are only a handful of things that you must include and there is no particular format that you must follow. Your request must be in writing ~ no phone call to the ISP Host will work. The DMCA says you must "sign" your letter, but an electronic signature is sufficient, meaning you just type your name at the end of your letter and send your letter via email. In your take down letter to the ISP Host, the DMCA says you must:
1. Identify the copyrighted photograph that you claim has been infringed (or a list of infringements from the same site);
2. Identify the site that is infringing your photograph;
3. Include your contact information;
4. State that you are complaining in "good faith;"
5. State that, "under penalty of perjury, that the information contained in the notification is accurate;" and
6. State that you have the right to proceed (because you are the copyright owner or the owner's agent). That's it!
As an example, here is the letter I wrote with respect to Mr. Chester's infringement of my photograph that I ended up not having to send since Google has an online form for victims to use:
Google VIA EMAIL, FAX and
(address) FIRST CLASS MAIL
Attn: Copyright Agent
Re: Copyright Infringement
www.knpvk9.com
Gentlemen:
I am the copyright owner of the photograph being infringed at www.knpvk9.com/#!obedience/c20c1 .
The photograph is of my Dutch Shepherd Dog, USJ CH Cher Car's Some Like It Hot ("Chanel"). A copy of the photograph being infringed is included below to assist with its removal from the infringing website.



This letter is official notification under the provisions of Section 512(c) of the Digital Millenium Copyright Act ("DMCA") to effect removal of the above-reported infringement. I request that you immediately issue a cancellation message as specified in RFC 1036 for the specified posting and prevent the infringer, who is identified by its web address, from posting the infringing photograph to your servers in the future. Please be advised that the law requires you, as a service provider, to "expeditiously remove or disable access to" the infringing photograph upon receipt of this notice. Non-compliance may result in a loss of immunity for liability under the DMCA.

I have a good faith belief that use of the material in the manner complained of here is not authorized by me, the copyright holder, or the law. The information provided here is accurate to the best of my knowledge. I swear under penalty of perjury that I am the copyright holder.

Please send me, at the address noted below, a prompt response indicating actions you have taken to resolve this matter. Thank you.

Very truly yours,

Kelly Reed Lucas

Google archives all DMCA Take Down Notices with chilling effects.org. I checked just now to see if my Notice was listed in that archive and, indeed, it is! Here is the link to where it is archived: https://www.chillingeffects.org/notices/2031928

So, should you find yourself in a similar situation as me and the offender will not take down your photograph voluntarily, you now know what to do to get relief.

I share the above information for educational purposes only and nothing stated here constitutes legal advice.