Still average...
New Avengers: Luke Cage #2
http://marvel.com/news/comicstories.12391.preview~colon~_new_avengers~colon~_luke_cage_%232
The cartoony art was serviceable again; it reminds of the early issues of his 1st series. Not a fan of a scruffy goatee - if he's got to keep it then keep it pencil trimmed as it has been. The different artistic interpretations of Dani, in age and look, by different artist does that new character no good. And stop teasing us with the otherwise cool cover wristbands.
Lionfang, though D-List choice for a 2nd ish, was a villain that got enough characterization with his ½ish debating with Cage. Its good practice to reuse a forgotten villain like this
http://www.marvunapp.com/Appendix2/lionfang.htm
.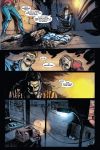 Felt the transition to the last panel on pg.2 was too odd to interpret/appreciate. Where did the 3 go?
Yes, his original name is LUCAS but the Previous Page and Jessica both using it, after it remaining mostly trivia all this time, comes feels very unnatural to read.
The stickball scene was okay after a second read. As was Leodis' flashback excuse for his illegal actions. The lion fighting
http://tinypic.com/r/345kk6e/6
was good enough - though smelling them first felt a little too Wolverine and it did .
However, the threat against Lionfang's boss as the cliffhanger moment felt sooo phoney after Cage just was unsuccessful at intimidating the lackey himself!
Your opinions?
---
Unrelated cover and CBR feedback for discussion here:
http://forums.comicbookresources.com/showthread.php?t=321011&page=12
http://forums.comicbookresources.com/showthread.php?t=322383&page=5
---
I miss my brother.