Excellent issue!
Nothing earth shattering but REALLY enjoyed the story, art, &lettering of it as inbetween arc filler muuuuuuuuuuch better than last issue!
Immortal Iron Fist #16
http://www.marvel.com/news/comicstories.4013.Preview~colon~_Immortal_Iron_Fist_%2316
http://www.marvel.com/catalog/IMMORTAL_IRON_FIST.2006.16
Some page by page recap...
s
p
o
i
l
e
r
s
Refreshingly different cover - and VERY NICE at that.
Four pages at the Thunder Dojo were okay if a little too long. It builds on Danny's likability as a human being and his common sense. It might mean more if Victor actually becomes a recurring character.
Four pages of Jeryn 'retiring' were better than okay. The real commraderie was spot on with the informative conversation they have. Heartfelt and humour also was worked in. The 13th floor of the Rand Tower was a neat touch - though reading it HAS NO 13th FLOOR must be taken with a grain of salt. Anyone that interested in Rand MUST be able to easily discover it exists by floor dimensions alone. Read odd(wrong?) that Jeryn didn't know. Cute scene though.
Two pages of Immortal Weapons were not enough. Well, storywise it was a fair length but it sparks so many interesting questions that translates into IF interest. Was English a required language in K'un Lun? Did Fat Cobra need glasses before? Was Bride communicating thru telepathy? Ooooh so a previous Bride fought Orson - any relation to this one? When will we learn more of this 8th City (y'know there's
gotta
be one)? Was Bride referring to Danny's birthday as it apparently happened day(s) later and if not WHAT?
These
Lightning Lords (would be cool):
http://www.marvunapp.com/Appendix3/legionoflivinglightning.htm
?
Two pages of Misty and Danny gettin' it
Ooo
n! Nice where's this relationship going sequence. Does Misty mind harboring a fugitive behind Stark's back? Did Stark fix her little Predator Drone Puppies sitch?
Four pages of Danny flaunting his purchasing the old H4H building in Cage's face and bragging he'll be a better philanthropist than Tony Stark or Bruce Wayne. Okay, that's just being facetious (though whose to say a storyline won't lean that direction). The cab page was fun and the handshake hints at a new Heroes For Hire stint. Yea for the H4H MB!
One page of Give Big Or Go Home.
Three pages of meditation and study(Book of Iron Fists) were necessary for a orderly new start/direction to Iron Fist's life and brings a new fear of Death that could very well last all this very year. The chain to letter was so neat and the years of Ming-Tian the was so informative. And a Easter Egg newspaper on the wall!
One page of Happy Birthday Danny - you are 33! He must have 10 years on Spidey! Who knew? And thank goodness they remembered to include 'The Friend', instory.
Final page gives (appreciated) self contained ending finality mixed with a stylish splash of foreshadowing.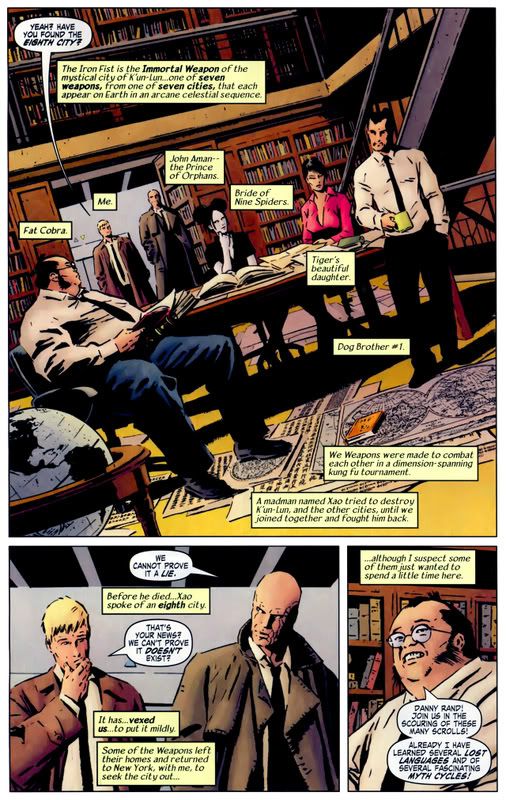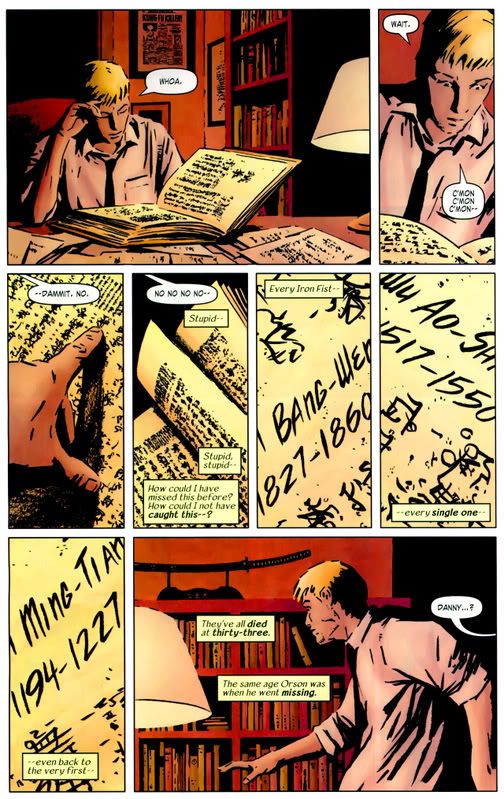 ---