: --Previous Message--
: I wasn't following H4H at the end. What
: were
: the final fates of all the team members?
:
:
:
--Previous Message--
: Misty is the only H4H member left.
:
: Humbug was killed by Shang Chi.
:
: Shang Chi left the team in disgrace.
:
: Tarantula was severely injured/traumatized
: (by thge Warbound) and is presumably
: hospitalized.
:
: Colleen was also traumatized (by thge
: Warbound) and abandoned Misty.
:
: Paladin took Moon Boy back to those who
: hired H4H to get him.
:
: Black Cat sort of got discarded.
:
Yep.
(Had typed this simultaneously and editted it here since I wasnt as fast with the clicking post button.)
--Previous Message--
: I wasn't following H4H at the end. What were
: the final fates of all the team members?
:
AFAIK, we know:
Shang carries off wounded Tarantula after killing Humbug.
Paladin carries off Moon Boy after bargaining with Misty.
Black Cat carries a sweet on for Paladin asshe walks away.
Colleen carries a grudge against Misty for getting her involved with H4H.
Misty carries the responsibility for the team's break up.
But unfortunately/disappointingly/
suddenly
the series is NOT carrying on!
[Click:] Here's some images and page by page reactions:

[Click:]Here's a review of Misty Knight's next appearance in AFTERSMASH #1:
Check out these final panels, that'll probably be an upcoming banner, or click: for a random eulogy here: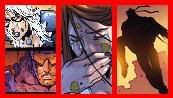 Hope this helps, too.