Heroes For Hire #15:
http://www.marvel.com/catalog/?id=7496
http://www.comicbookresources.com/news/newsitem.cgi?id=12407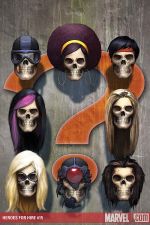 -intriguing cover ruined by the ending. Still not 100% clear of the fate of the title but cover suggested more based on the rumors. Apparently, presumably, it's a wordless parallel message to Alpha Flight v1#12 cover.
-torn on the Previously Page. Normally include H4H among the titles to rave about this. But in hindsight all we pay for on with this page is one (granted colorful) sentence. If the series is to continue and a guest star like Doc Samson were to come across this personality revealing clutter in a sequence then this particular page would be better in hindsight.
-the male cast really got all the characterization this issue, even MoonBoy. Right from the get go with reactions to Humbug's sitch.
-5 vs Humbug. This was going to be interesting...
-the collaborative effort of SIX artists help improve the art from last issue
-good choreography and close up shots
-MoonBoy's fury seemed like a sudden mood change more than answering the call. Paladin's shooting was surprisingly sloppy. Humbug's antennas revealed was an intertesting development (made me think Mantis) that will likely be forgotten
-Humbug's inner conscience emergence seemed a bit all-of-a-sudden, was cliche way to hold off on the definitive battle comparisons and foreshadowed possible redemption
-radioactive isotopes?! Nasty S.O.B., eh? :-D
-having read the fate of Brood Queen in WWH, her plight here held little drama. Wonder if Miek had originally planned to karmically turn his hivelings on the hatching Brood because if Humbug hadn't shown up would the 'kids' really get along?
-that (rescue) was easy
-Wing really emphasizes the torture endured with the 'How many years?' thing
-hopefully a couple of Nerve Maggots survive 'cuz it's a neat antagonistic concept for other MU heroes
-at least Tarantula gets a line: "HNNNNNNNNNNNNNNNNN". Though Shang's comment about her crying spoke for her much more
-Shang going all Rambo read spot on. And the mask thing was a WTH moment to ponder
-Queen vs Mask... uhh okay. More hope for Humbug
-"He only delivered it." What the HECK? That sentence did not follow in context!
-so from 5 failing vs Humbug it looks like its going to be only Shang vs Humbug. Good for Humbug bad for Shang?
-WOAH! That changes things! *eek*
-He's back?? Wait! What happened? What happened? What happened?!
-Felicia trying to get into Paladin's pants? Who cares right now. What happened? What happened? What happened?!
-aaaaaaaaaah... relief... thank God for flashbacks...
-the significance of the cover comes to light
-uh oh... don't think he should have called her 'the mean one'... *cringes*
-Technically that is NOT a mercy killing. Definite EEP! *gah* to the splash page
-sooo that's it. Colleen delivers a nice closing line but still... No resolutions? No freedom for MoonBoy? No recovery for Tarantula? No more team for Misty? No payback for Miek&Queenie? No Aftersmash? No danglers undangled? No upcoming solicits still? No more of my money? No more?... I'm waaaaiting...
---
Hire Shang Chi:
and enter the current caption contest...