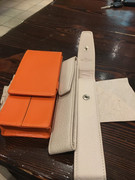 So here are 3 Delta cases
1. Orange hard case $20
2. Taupe unbuckle case really exquisite was a special order group Bryant did. I think they called them taupe. These are gorgeous leather cases I think they termed taupe with a unbuckle finish. 1 pen cases I have 2 . They are $50 each.
These don't have boxes but are gorgeous cases take all three and the price is 95 delivered CONUS.
The one MB croco grain MB mocha still available I will deliver in CONUS this is the case listed below for $80. This is the 1pen case listed as 1 below.
Take all 4 cases and will sell CONUS for $160...