Hi friends,
I have 3 pens on offer today. Additional photos are available upon request:
1. 1930s Aurora Novum:
This vintage Aurora Novum has clear imprints and a spectacular Platiridio number 5 nib; as I understand it, at the time this pen was made, gold nibs were not allowed as Italy was diverting its resources towards the conquest of Ethiopia.
This is a large, comfortable pen, which works by means of a little lever at the bottom of the barrel which one flips open before dipping the nib into ink, then depresses once or twice to fill the sac. The barrel and cap are faceted, 12 sides in all. The photos do not do this pen justice.
It writes beautifully.
I am asking for
$320
(which, to be transparent, is $130 less than I paid for it) including shipment within the US. I am selling it because I need to free up funds. For international destinations, kindly add $30. Payment by PayPal at DavidAugustus62@gmail.com.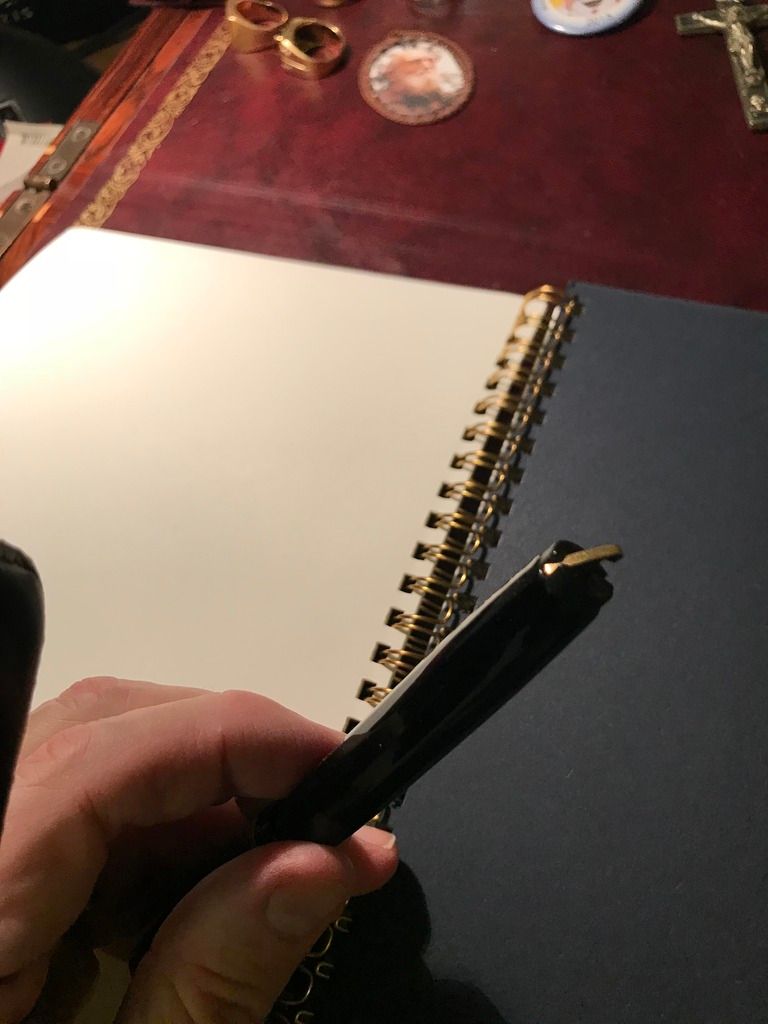 2. 1930s Montegrappa Extra Segusa
This vintage Montegrappa is seldom encountered. It is a small pen, with the equivalent of a # 2 nib on American vintage FPs. The push button filler works, and the nib was tweaked by Yukio Nagahara of Sailor Pen Co. at the LA Show a few years back.
For the Italian or European pen enthusiast, this one is in great condition, with clear imprints. Forgive the poor pictures, but it is snowing and dark and dismal here in NYC.
$210
including shipping within the US. For international shipping, please add $30. No trades at this time as I am in need of funds.
PayPal address is DavidAugustus62@gmail.com
3. Early 1950s Yotubisi Urushi Eyedropper Filler
I am offering my vintage Yotubisi FP for sale. This pen dates back to the 1950s. The ebonite body is coated with a lovely shade of mocha/maroon urushi. The cap band is 14k gold. The nib is 14k gold and has the kanji for "wisdom" on it.

The clip is a bit pitted, but is wholly intact. The rod that one pulls out in order to fill the pen from the top moves easily, but I have not filled this pen with ink, and I assume that the seals will have to be changed if you intend you use the pen. It is in impeccable shape. You may notice a tiny section where the clip is attached that is missing. Because the area is totally covered in urushi, that missing spot was obviously there when the pen was manufactured. What I assume happened is that the pen maker drilled the hole for the clip a bit too large. This is what one might call an artisanal imperfection which does not detract from the pen's utility or appearance in the least.
I am asking for $550 or best reasonable offer, which will include shipping within the USA. For overseas customers, please add $30 for Priority shipping.
Payment is by PayPal at DavidAugustus62@gmail.com or check or money order drawn on a US bank.

Thanks for looking.