For Stan - Found a California Palm Climate Table
Posted by Brandt-San Diego
on 7/6/2017, 9:31 pm
Stan,

I saw this on cloudforest.com. I didn't know until recently (wasn't paying enough attention) that Axel moved out of Santa Cruz and has dual residences in Fallbrook ("moderately inland", north of San Diego, zone 10b, Sunset 23) and in Kauai (tropical, of course).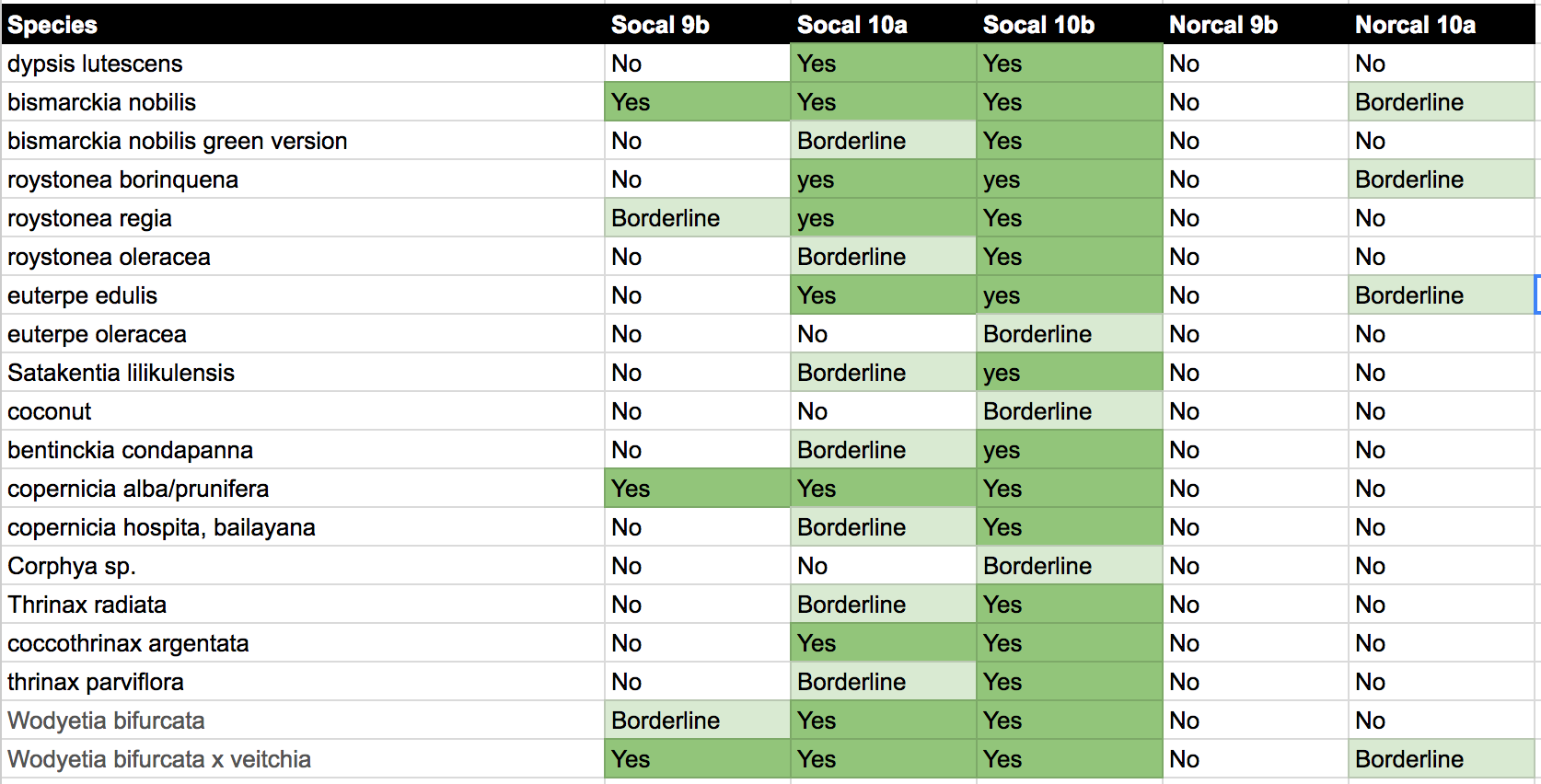 I know..."Norcal 10b" is missing, but what do you think of the Norcal 10a part of this table? I know a few have tried, with some success, Roystonea, but I would agree that all of Norcal is outside of the limits for coconuts, since they barely hang on here in the best microclimates (except perhaps better in the La Quinta/Palm Desert foothill thermal belts, though a cold blast would give them the potential to get colder than at the coast, so long term would be questionable). I see Dypsis lutescens he lists as "no" for Norcal (something that's reasonably common here)--agree or disagree? I'm surprised he says "no" to Wodyetia bifurcata in Norcal (I thought it was hardy enough). Too bad Euterpe oleracea is just borderline for Socal 10b (it would be neat to grow the acai fruits) but Euterpe edulis (which despite its name isn't grown for the fruits) is fairly hardy. Of course, he's emphasizing overall winter chill more than temperatures of the coldest nights.

I'd like to see a table like that for some other (non-palm) plants and trees, like...

African tulip tree? (Yes or no in the Bay Area?)
Crotons (probably Socal 10b only--and mostly borderline even in 10b)
Jackfruit
Pandanus utilis (You'll help us find out the Norcal answer)
Ficus lyrata (Yes or no in the Bay Area?)
Ficus benghalensis (Probably not in the Bay Area, but has anyone tested it there?)
Traveler's tree? (Yes or no in the Bay Area? Of course, a few might want to call a Giant Bird of Paradise a Traveler's tree, but they're not the same!)

Of course, something like a Ceroxylon might be reversed--"yes" for the Norcal zones (except maybe 9b) and "borderline" for the SoCal zones.


---