Thanks Brad! Bougainvillea tend to go through peak flushes about twice a year, spring and fall. These flushes can last a month each. Maxing out for the two weeks in the middle. How quickly it heats up, or cools down will determine how long a flush lasts. Long stretches of sun and low 80's can add weeks to the peak blooms.
During the rest of the year they can range from no blooms to moderate blooms. Sun and moderate temps will dictate how much.
You're almost right about the Ocotillos. They leaf out after getting rain and warm temps. Winter rains can have them leaf out here, but generally they don't. More commonly you'll see this occur from spring to fall.
Now they tend to flower more so towards the early part of the growing season. Ocotillos have one of the largest ranges of any SW plant. From NM to CA and into MX. So you'll see them respond slightly different through the various parts of their range. Yet still remain fairly consistent.
We have had a wetter winter than what we've been experiencing since the 2000's prolonged brought drought to the SW. So the Ocotillos are leafed out through town. I also water mine to keep the leaves on for months at a time. If I didn't the leaves would drop after 3 to 4 week.
Oleanders are one of the few plants that I don't even think about amending their soil. I also don't fertilize them here. Water, sunlight, heat, then end. I would suggest that you put them in the hottest, sunniest part of your yard. Don't give them a minute of shade. That reduces the blooms even here. If you have a warm, sunny, southern wall, I'd keep your oleander there. I bet even near a window where more reflective light could further stimulate the blooms would be a good idea.
If you study the pic below, you'll see that the oleander closest to the house is flowering the least on its lower right side in comparison with the oleanders closest to the camera. All have the same soil, but the ones closest to the house get more AM shade. That's the different here.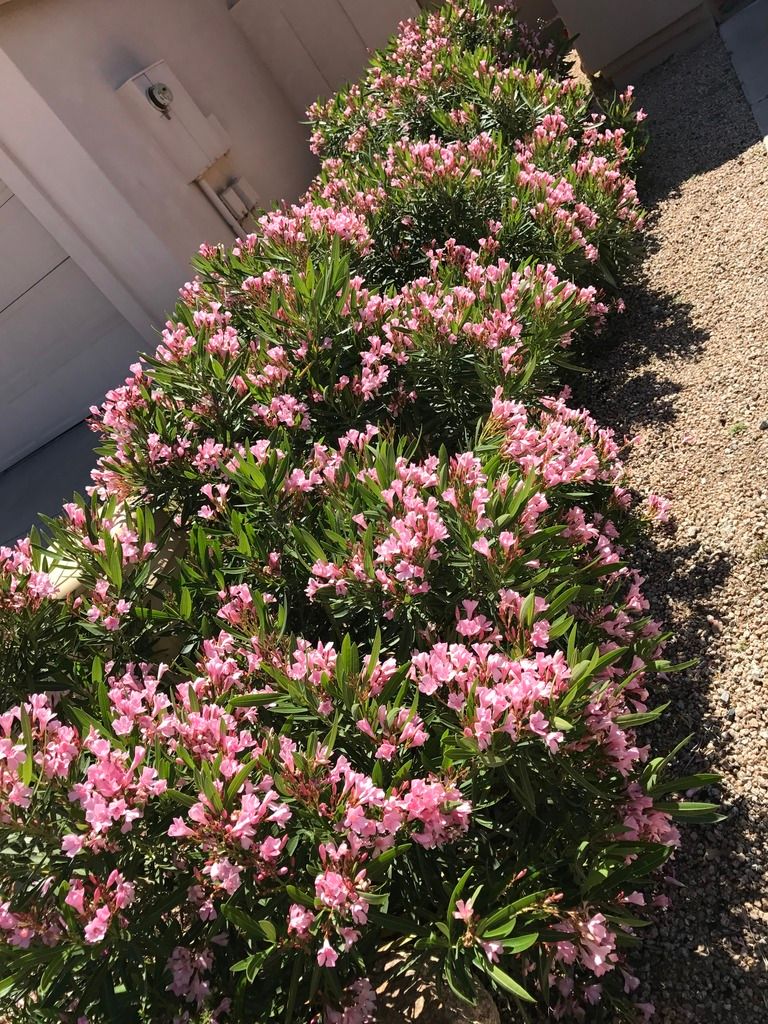 I hope you find some of this information to be useful!
Thanks,
Lee